Gutters Perth
Colorbond or Aluminium Gutters
Gutters Perth
Colorbond or Aluminium Gutters
Choose us for your gutter repairs
We'll turn up for the quote as promised

Give you free advice based on our many years of experience

Offer a choice of Colorbond or Colortuff aluminium gutters

Give you a great price

Do a quality job

Remove and recycle the old gutters

Give you a written guarantee for the work

Provide a dedicated call service should a problem arise
Choose us for your gutter repairs
We'll turn up for the quote as promised

Give you free advice based on our many years of experience

Offer a choice of Colorbond or Colortuff aluminium gutters

Give you a great price

Do a quality job

Remove and recycle the old gutters

Give you a written guarantee for the work

Provide a dedicated call service should a problem arise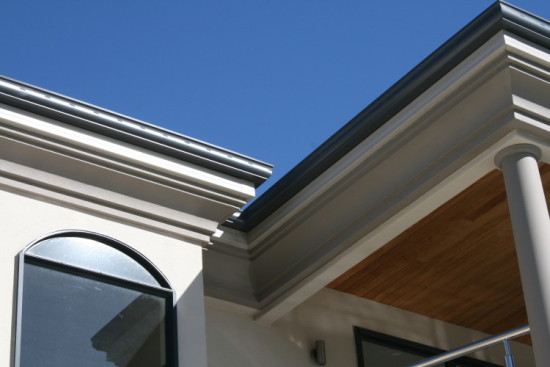 Read more comments from our happy customers
Gutters Perth
Until recently, the only gutters Perth residents had available for gutter repairs were Zincalume and Colorbond gutters. Both gutters are made from steel with a thin coating of zincalume alloy applied to stop rust. This alloy gradually breaks down over time allowing water and air to contact the steel. Once this occurs both Zincalume and Colorbond gutters will rust away.
Colortuff aluminium gutters were recently introduced into the Perth gutter market. These gutters are made from marine grade aluminium rather than steel, so they'll never rust. You can use the table below to compare all of the features of Colortuff and Colorbond gutters.
Gutter Guys can now offer their Perth gutter customers the choice of both Colortuff aluminium gutters or Colorbond gutters for their gutter replacement job.
We were established in 1998 and are proud to be the leader in roof gutter repairs in Perth WA. We've completed over 7900 gutter repair and replacement jobs in Perth over the past 20 years so you can be confident in our experience. Check out the testimonials from our happy customers on the bottom of this page and on other pages of this web site and you'll see that the quality of our work and the service we provide is exceptional. If your gutters are rusty contact us for a best-in-class solution that will deliver impressive results.
We use our superior buying power to offer our customers excellent prices on a huge range of new roof guttering. No matter the age or style of your home, we can install roof gutters that will suit your home perfectly.
Compare our premium and standard gutters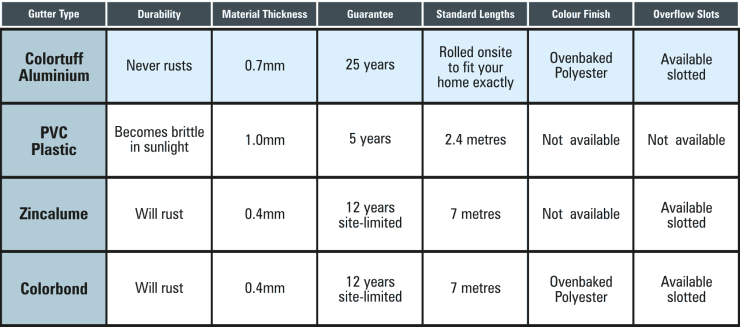 Compare our premium and standard gutters


Will never rust because they're made from marine grade aluminium.
Will rust because they're made from steel.
Available with overflow slots
Available with overflow slots
25 year guarantee. Valid on the coast.
12 year guarantee. No guarantee when close to ocean.
Rolled on-site to suit the dimensions of your home.
7 metre standard lengths.
about 15% more expensive than Colorbond.